Kyun Utthe Dil Chhod Aaye: Farooq final war burns Randhir-Amrit alive (Future Story)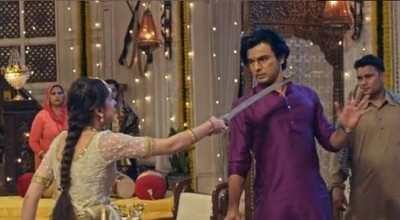 Kyun Utthe Dil Chhod Aaye: Vashma (Anchal Sahu) and Uday escaped, Farooq turned evil against Randhir- Amrit
Kyun Utthe Dil Chhod Aaye is Sony Entertainment Television's popular daily soap show bringing new twists and dramas in upcoming tracks.
As per ongoing track of the show Vashma and Uday escaped from Farooq clutches where Vasham is blessed with baby boy.
Farooq is feeling defeated but still not leaving any chance to kill everyone on name of riots.
However Farooq gets hell furious that Abrar helped them to escape where he challenged Randhir and Amrit to kill them.
Farooq to burn Randhir and Amrit alive
Shockingly, Randhir reality also exposed where Farooq and Randhir gets into ugly fight and later Farooq puts entire house on fire to burn Randhir and Amrit alive.
Will Randhir and Amrit able to save themselves?
It would be interesting to see what will happen next in show.
Stay Tuned with us for more exciting updates and upcoming twists in the shows.
Latest Kyun Utthe Dil Chhod Aaye Updates