Aapki Nazron Ne Samjha: Charmi challenges Gunjan to break Shobit marriage (Upcoming Episode)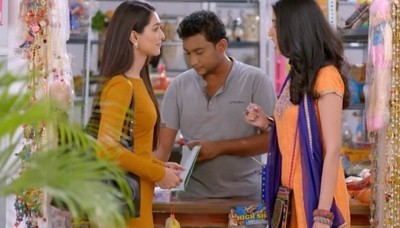 Aapki Nazron Ne Samjha: Charmi and Gunjan face off for Shobit marriage ahead
Aapki Nazron Ne Samjha is Indian tv drama which telecasted on Star Plus, where its upcoming track of the show will bring much drama and suspense in the show.
Entire cast of ANNS is in Goa where marriage track is going to happen in Goa.
Shobit marriage news is still hidden from Charmi where Charmi also reached in Goa to meet Shobit and attend Darsh marriage.
While in Goa Charmi gets baffled knowing that Shobit is too marrying Gunjan and has tagged her as ex girlfriend.
Charmi challenges Gunjan to snatch Shobit
However this will br bring major twist in show where Charmi challenged Shobit that she will break GUnjan and Shobit marriage.
Gunjan gets juggled on hearing this and Charmi is on full swing to act opposite.
It would be interesting to see what will happen next in the show.
Stay tuned with us for more exciting updates and upcoming twists in the show.
Latest Aapki Nazron Ne Samjha Updates