Kyun Utthe Dil Chhod Aaye: Veer turned devil to punish Amrit for past love (Upcoming Story)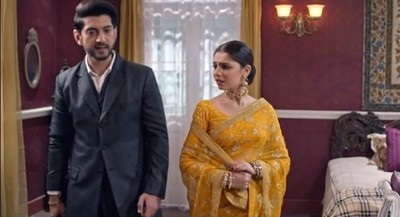 Kyun Utthe Dil Chhod Aaye: Veer turned devil to punish Amrit for past love
Kyun Utthe Dil Chhod Aaye is Sony Entertainment Television's popular daily soap show bringing new twists and dramas in upcoming tracks.
As per ongoing is showing that Veer is doing his best to catch Amrit with her lover where he planned ugly web.
However where further, Veer gets baffled knowing that Randhir is Amrit past lover and turned devil to punish Amrit.
Veer carves his name on Amrit hand with knife
Shockingly, Veer turned ugly devil where he carves his name on Amrit hand with knife but at same Randhir entered to safeguard Amrit from all this.
Mess amid this trio of Randhir Amrit and Veer will create new drama as Veer is not easy game to be defeated.
It would be interesting to see what will happen next in show KUDCA.
Stay Tuned with us for more exciting updates and upcoming twists in the shows.
Latest Kyun Utthe Dil Chhod Aaye Updates