Kumkum Bhagya: Pragya new family set up & awaits blast in Abhi life (Future Story)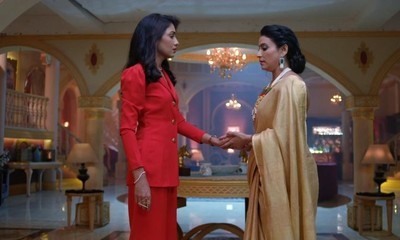 Kumkum Bhagya: Pragya new family set up & awaits blast in Abhi life
Kumkum Bhagya is popular show telecasted on Zee Tv, which is up for some interesting twists and turns ahead in the show where Abhi and Pragya are separated and big twist is there.
Latest track of the show is showing how, Pragya is away from Abhi where she is staying foreign and with her all new family.
Where a lady names Sushma saved Pragya life and here comes the biggest twist as Pragya got her new family in Australia.
Pragya new family and hate for Abhi begins ahead
However where further, Pragya gets furious when there is Abhi's birthday and gets much furious when Sushma wished her.
At same Pragya revealed her pain forth Sushma where her new family and mom aka Sushma never wanted Pragya to leave her eyeing her hate for Abhi.
It would be interesting to see what will be next Twist in show Kumkum Bhagya.
To catch stay tuned with us for more updates and exciting twists in other shows too.
Latest Kumkum Bhagya Updates