Mehndi Hai Rachne Wali: Raghav Pallavi go oops to romance in library (Upcoming Episode)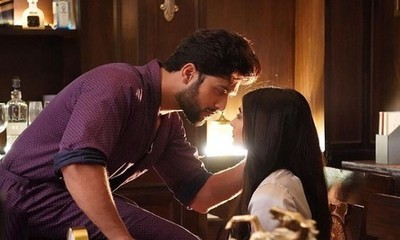 Raghav Pallavi go oops to romance in library in Mehndi Hai Rachne Wali
The powerful love chemistry of Raghav and Pallavi is going to get sensuous in the upcoming episode of your favorite TV show Mehndi Hai Rachne Wali.
Raghav and Pallavi both confess their love as they promise to always stay with each other and fight back the challenges and difficulties.
Pallavi and Raghav's love strengthens while here Mandar plans and plots against them.
In the meanwhile when Pallavi gets tensed and comes to Raghav to talk to him,
The moment gets cozier between them when Raghav sits on top of the table to tempt his lady love.
Raghav turns caring hubby impresses Pallavi
As Raghav tries to calm down Pallavi and caresses her cheeks,
The romantic moment gets more intense between them when he caresses her neck.
While this library romance of Raghav and Pallavi is what you can't miss,
Stay tuned with us at Serialgossip.com for more updates and latest news of top TV shows.
Latest Mehndi Hai Rachne Wali Updates