Amitabh Bachchan and Abhishek Bachchan hospitalized today (Latest News)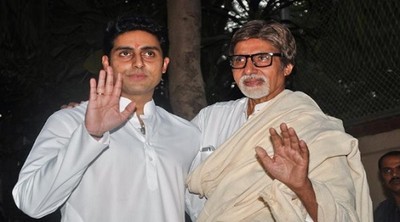 Amitabh Bachchan and Abhishek Bachchan hospitalized today
Bollywood actor Amitabh Bachchan with son Abhishek Bachchan is hospitalized and the news has left everyone stumbled.
Legendary actor Amitabh Bachchan is tested positive for Covid-19 where his son Abhishek Bachchan is also tested positive.
The duos are admitted to Nanavati Hospital and their condition is stable.
Abhishek Bachchan tweeted, Earlier today both my father and I tested positive for Covid-19. Both of us having mild symptoms have been admitted to hospital. We have imformed all the required authorities and our family staff are all being tested. I request all to stay calm and not panic, Thankyou.
Meanwhile, Amitabh Bachchan also tweeted, I have Covid-19 positive…shifted to hospital…hospital informing authorities…family and staff undergone tests, results awaited…All tht have been in close proximity to me in the last 10 days are requested to please get themselves tested!
Amitabh Bachchan and Abhishek Bachchan to get well soon
Amitabh Bachchan and Abhishek Bachchan's condition is stable and are admitted in Nanavati Hospital.
Serial Gossip and team wishes for their fast recovery.
Stay tuned with serialgossip.com for all the latest updates and latest news of TV Serials, Bollywood celebs.
Latest Amitabh Bachchan Updates