KumKum Bhagya fame Shikha Singh flaunts baby bump with Karan Shah (Latest Update)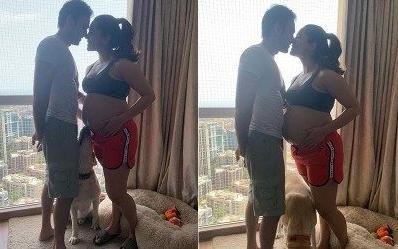 KumKum Bhagya fame Shikha Singh flaunts baby bump with Karan Shah
KumKum Bhagya fame Shikha Singh popularly known as Aaliya in negative role is expecting her first baby with husband Karan Shah.
Shikha Singh enjoys sharing her pictures on social media where she recently announced her pregnancy few days back.
Further she took to social media and posted her new snap flaunting her baby bump where she is seen delighted and extremely happy.
Moreover their Labrador is also seen in the picture every now and then to which Shikha mentions that Goku will be their first baby who is all set to be the big brother.
Shikha Singh and Karan Shah's pregnancy diaries
Shikha and Karan got married in 2016 and Karan is pilot by profession.
All best and keep smiling so that the baby also smiles inside the womb.
Loyal viewers of KumKum Bhagya are missing to see Aaliya onscreen.
Keep reading to stay engaged.
Latest Kumkum Bhagya Updates