Udaan:Imli's jail trip success with Raginis false impotency report revealed to Vivaan (Upcoming Story)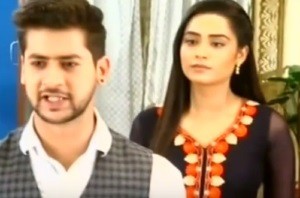 Imli's (Vidhi Pandya) jail trip a success with Ragini's false impotency reports revealed to Vivaan (Paras Arora) in Udaan
In Udaan there are many situations wherein Imli (Vidhi Pandya) have been sent to jail all because of Vivaan (Paras Arora).
Imli have got to know that Vivaan would not be readily accepting Imli and Vivaan's child until Vivaan's misuderstanding would get cleared.
Now, Imli is all about to bring the doctor who made false reports of Vivaan's impotancy home but Raini before that sent Imli to jail.
Chakor and Suraj came to know about Imli and the doctors conversation and decide to help Imli.
Vivaan bails out Imli
Chakor and Suraj bring home the doctor and ask him to speak the truth listening to which Vivaan gets shocked.
It would be interesting to watch as to how would Vivaan start feeling guilty and bail out Imli?
Stay tuned for further interesting stories about Vivaan and Imli's child truth.
Latest Udaan Updates