Dil Toh Happy Hai Ji: Happy's love drama to RV with a winning tactic (Upcoming Episode)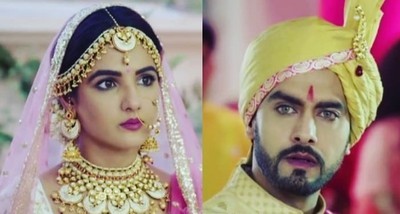 Dil Toh Happy Hai Ji: Happy's 9Jasmin Bhasin) love drama to RV (Rohit Purohit) with a winning tactic
Star Plus daily soap opera 'Dil Toh Happy Hai Ji' is going to see further an exciting track.
The current track is revolving around how RV gets Happy's bail from Anaya's murder case.
Meanwhile, a big surprise to RV, Happy proposes him for marriage.
The latter is flying on cloud nine after all Happy accepted his love.
But the twist in tale is that Happy is faking her love drama to win RV's trust and get strong evidences against his crimes.
Happy to make RV payback for crimes
Happy is not ready to let RV play his nasty games anymore.
Thus she compels him for marriage where after soon the duos will finally get married.
Post marriage, Happy will use her winning tactics to win RV and collect strong clues against him and his bloody hands in Anaya's murder.
Stay tune for the next coming update.
Latest Dil Toh Happy Hai Ji Updates