Tujhse Hai Raabta: Evil Atharv in jail post Malhar and Kalyani save Moksh uniting happy family (Upcoming Twist)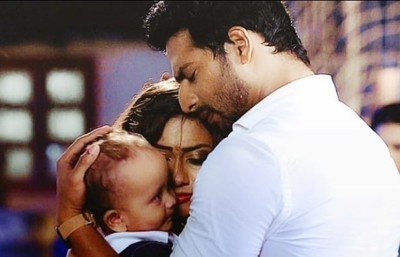 Payback time for evil Atharv with Malhar-Kalyani-Moksh happy family reunion in Tujhse Hai Raabta
Zee TV daily soap opera 'Tujhse Hai Raabta' is finally bringing the happy times in Malhar and Kalyani's life.
In the current storyline, Malhar and Kalyani have finally saved their son Moksh from evil Sampada and Atharv and exposed their nasty conspiracy.
Where the couple unites the happy family getting back their son safe,
Malhar thus gets in action to arrest evil Atharv and get him punished for his crimes.
Malhar arrests Atharv
Evil man Atharv will try his best to elope but Malhar will bravely knock him down and will arrest him.
Atharv's arrest will now bring the payback time for him.
It will be interesting to watch how Malhar will get Atharv punished for his crimes.
Stay hooked with us for the very next update.
Latest Tujhse Hai Raabta Updates