Kundali Bhagya: Preeta overlook Prithvi's reality check against Karan's mind game (Upcoming Twist)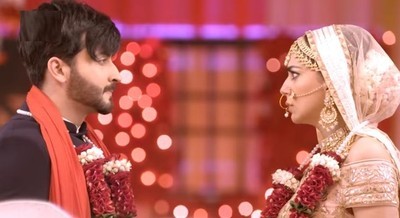 Kundali Bhagya: Preeta (Shraddha Arya) overlook Prithvi's (Sanjay Gangnani) reality check against Karan's (Dheeraj Dhooper) mind game
The upcoming episode of ZEE TV show Kundali Bhagya will showcase shocking twist and turn.
It was earlier seen that Karan marries Preeta cunningly.
Post marriage Karan confesses his love for Preeta where Sarla and Preeta accept the marriage.
Prithvi asks Preeta to leave Karan and marry him.
But Sarla and Preeta ousts Prithvi.
Furious Pritvhi thus warns Preeta over the demolition in her life post marrying Karan.
Prithvi informs Preeta over upcoming storm post marrying Karan
Prithvi informs Preeta that she will regret choosing Karan over him.
In real Preeta is unaware about Karan's real intention behind marrying her.
Preeta is also unaware about Karan's false love for her.
Keep tuned to serialgossip.com for more updates on Kundali Bhagya.
Latest Kundali Bhagya Updates