Kundali Bhagya: Karan Mahira's wedding preparations begin Preeta restless (Upcoming Twist)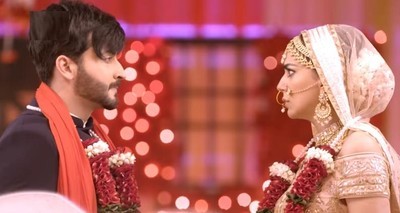 Kundali Bhagya: Karan (Dheeraj Dhooper) Mahira's (Swati Kapoor) wedding preparations begin Preeta (Shraddha Arya) restless
The upcoming episode of ZEE TV show Kundali Bhagya will showcase interesting twist and turn.
It was earlier seen that Karan and Preeta gets married where Preeta falls in Karan's trap.
Karan gets Preeta trapped in love but later abuses her love leaving her shattered.
But Preeta decides to continue with her marriage.
Now Kareena comes to know that Mahira loves Karan and wanted to marry him.
Kareena propose Karan Mahira's marriage
Kareena any which ways never liked Preeta and wanted a rich girl for Karan.
Hence Kareena proposes Mahira and Karan's marriage.
Karan too agrees to marry Mahira just to make Preeta jealous and shatter her all the more.
Keep reading serialgossip.com for more updates on Kundali Bhagya.
Latest Kundali Bhagya Updates