Kahan Hum Kahan Tum: Rohit and Mahesh ferocious face off puts Sonakshi in danger (Upcoming Episode)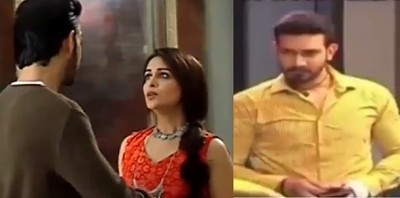 Kahan Hum Kahan Tum: Rohit and Mahesh ferocious face off puts Sonakshi in danger
High time wedding galore in the TV Serial Kahan Hum Kahan Tum will soon see a ferocious face off between Rohit and Mahesh.
Rohit has begun his final hunt behind the stalker of Sonakshi.
Meanwhile the preparations for Rohit and Sonakshi's wedding is also on the head.
The twist in the tale will soon unfold when Rohit will get his hands on Mahesh being the real culprit.
Rohit and Sonakshi to face a danger
Mahesh will go more deadly after Rohit will recognize him.
Although Rohit will make sure to protect Sonakshi from evl Mahesh but eventually he will fail.
Let see what will happen after the ferocious face off amid Rohit and Sonakshi.
Stay tuned to serialgossip.com for more updates.
Latest Kahan Hum Kahan Tum Updates