Kahan Hum Kahan Tum: Rohit executes action plan to catch Mahesh (Upcoming Twist)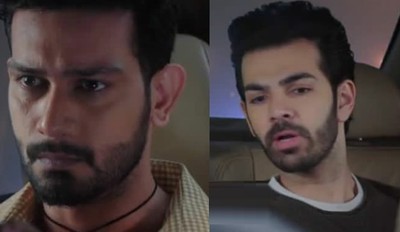 Kahan Hum Kahan Tum: Rohit executes action plan to catch Mahesh
Star Plus popular soap Kahan Hum Kahan Tum is focussing on Rohit and Sonakshi's marriage.
Rohit and Sonakshi are finally getting married that here Mahesh goes more mad to get Sonakshi.
Mahesh has become driver of Rohit where he acted innocent before Rohit and Sonakshi.
Although Sonakshi is not aware of Mahesh disgusting motives,
Rohit seems to recognize Mahesh being the one who is stalking Sonakshi.
Thus, Rohit plans to catch Mahesh as soon as he will plan to attack Sonakshi.
Mahesh hears Rohit and YK's conversation that he gets alert to flop their plan.
Rohit Mahesh face off
Rohit will smartly catch Mahesh that he will beat Mahesh to pulp.
Let see what will happen amid Rohit and Mahesh face off.
Latest Kahan Hum Kahan Tum Updates