Yeh Rishta Kya Kehlata Hai: No death drama Kartik to save Kairav (Future Story)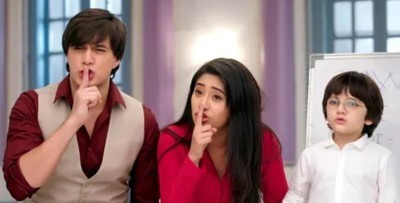 Yeh Rishta Kya Kehlata Hai: No death drama Kartik (Mohsin Khan) to save Kairav (Tanmay Shah)
The upcoming episode of Star Plus show Yeh Rishta Kya Kehlata Hai will showcase interesting twist and turn.
It was earlier seen that Askaht kidnaps Kairav and asks ransom from Kartik Naira.
Kartik Naira agrees to give the money as they want Kairav safe.
However Vedika is very much sure that Akshat wants to exact his revenge.
And Vedika's words turn true where Akshat does not leave Kairav.
Akshat takes Kairav on top of the cliff and gets ready to push him.
Vedika Naira and Kartik shocked to see Kairav at cliff top
At the right time Vedika Naira and Kartik witness Kairav.
Kartik and Naira rush to save Kairav in a heroic manner as always.
There will be no death drama where post this Akshat will get caught by police.
Keep reading for more updates on Yeh Rishta Kya Kehlata Hai.
Latest Yeh Rishta Kya Kehlata Hai Updates