Patiala Babes: Neil bursts at Kammo for speaking against Minni's character (Upcoming Twist)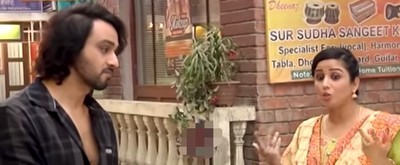 Patiala Babes: Neil (Sourabh Raj Jain) bursts at Kammo for speaking against Minni's (Ashnoor Kaur) character
Sony Entertainment Television popular daily soap Patiala Babes is gearing up for high voltage drama and twist.
Minni had fallen ill and is not feeling well and thus Neil takes charge to drop her home.
Neil comes to drop Minni home and both are on the bike together, while Kammo sees it.
Kammo is puzzled to see Neil and Minni together, here Kammo speaks ill against Minni.
Kammo against Minni
Kammo tells Neil that Minni is just like her mother Babita who had trapped innocent Hanuman Singh and now daughter Minni is trapping him.
Neil takes Minni inside the house and then he bursts at Kammo for being so cheap and taking any step for gossip.
Stay tuned for more exciting updates of the upcoming episodes only on serialgossip.com
Latest Patiala Babes Updates