Kahaan Hum Kahaan Tum: Sonakshi indirectly expose Naren's reality before Veena (Upcoming Episode)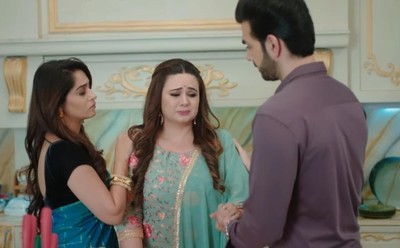 Kahaan Hum Kahaan Tum: Sonakshi (Dipika Kakkar) indirectly expose Naren's reality before Veena
The upcoming episode of Star Plus show Kahaan Hum Kahaan Tum will showcase shocking twist and turn.
It was earlier seen that Sonakshi gets blackmailed by Yashwant.
Yashwant states that he will soon expose Naren before Veena.
Sonakshi gets scared and feels like she should reveal the truth to Veena herself.
Sonakshi thus indirectly reveals the truth to Veena mentioning about her script at Kahani Parvati Ki.
Veena disagree with Sonakshi's thinking
Veena feels Sonakshi should not reveal the truth to her mother in law which will break her happy life.
Sonakshi gets confused but Rohit gets angry seeing Sonakshi trying to expose Naren.
It would be really interesting to see what happens next on the show.
Stay tuned and keep reading serialgossip.com for more updates.
Latest Kahaan Hum Kahaan Tum Updates