Patiala Babes: Arya calls for Neil Minni's wedding unfolds syappa (Upcoming Twist)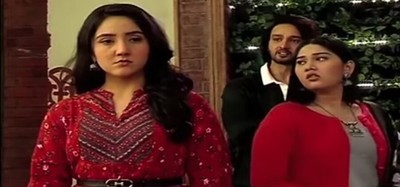 Patiala Babes: Arya (Saisha Bajaj) calls for Neil (Sourabh Raj Jain) and Minni's wedding, unfolds syappa
Sony Entertainment Television popular daily soap Patiala Babes is gearing up for high voltage drama and twist.
Minni has organized a party at her place and here all society members are invited.
Minni is already tensed over how Neil is staying at her place and society people are talking about it.
Minni is trying to ignore them and do what is right, while here Arya seems to be on another tangent.
Arya assumes that Minni and Neil are in love and imagines them as hero and heroine of her television show.
Arya's marriage syappa for Neil and Minni
Arya takes charge to unite them and asks Neil to marry Minni amid the party and everyone is stunned.
Minni knows it's consequences and bursts at Arya and slaps her hard.
Stay tuned for more exciting updates of the upcoming episodes only on serialgossip.com
Latest Patiala Babes Updates