Tujhse Hai Raabta: Fifty years leap Malhar Kalyani's life gets funny twist (Upcoming Episode)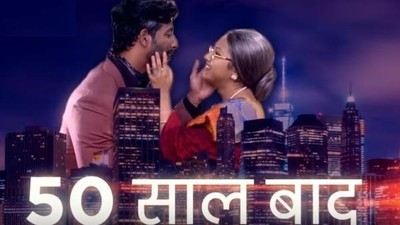 Tujhse Hai Raabta: Fifty years leap Malhar (Sehban Azim) Kalyani's (Reem Sheikh) life gets funny twist
The upcoming episode of ZEE TV popular Hindi TV series Tujhse Hai Raabta will showcase interesting twist and turn.
It was earlier seen that Malhar and Kalyani loves each other a lot but never got to confess their love.
The day Malhar and Kalyani wanted to unite and confess love they always got separated.
Now when Kalyani risks her life and gets drowned, Malhar saves her and confesses his love.
Suddenly the show takes a leap of fifty years as shown in the latest promo.
Kalyani and Malhar are seen old where Kalyani is all set to confess her love.
Kalyani all set to confess love for Malhar
This turns out to be Kalyani's funny dream where she informs Moksh that she will confess her love for Malhar right away.
It would be really interesting to see what happens next on the show.
Stay tuned to entertainment news website serialgossip.com for latest serial gossip and spoiler alert.
Latest Tujhse Hai Raabta Updates