Choti Sardarni: Meher and Sarabjit's Pyaar Ka Punchnama (Upcoming Twist)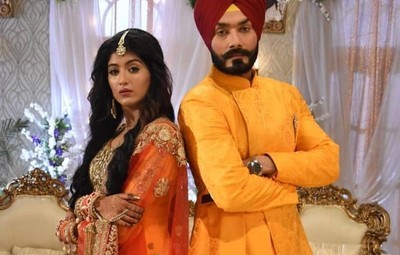 Choti Sardarni: Meher (Nimrat Kaur Ahluwalia) and Sarabjit's (Avinesh Rekhi) Pyaar Ka Punchnama
The upcoming episode of Colors popular Hindi TV series Choti Sardarni will showcase interesting twist and turn.
It was earlier seen that Meher gets mood swings and irritates Sarabjit.
Sarabjit thus plans a movie date with Meher.
Sarabjit makes beautiful arrangement to watch movie with Meher just outside their house.
Meher gets happy and starts watching the movie Pyaar Ka Punchnama where she reveals that Kartik Aryan is her favorite actor which makes Sarabjit jealous.
Sarabjit also plays the same prank on Meher but does not work.
Sarabjit Meher's nohk jhok moment continues
The duos nokh jhok continues and gets happy to have each other in their life.
On the other side Harleen plans to send Meher back to Kulwant and takeover everything back in her hand.
It would be really interesting to see what happens next on the show.
Stay tuned to entertainment news website serialgossip.com for latest serial gossip and spoiler alert.
Latest Choti Sardarni Updates