Kundali Bhagya: Karan Preeta's first Valentine's Day celebration Mahira failed (Upcoming Twist)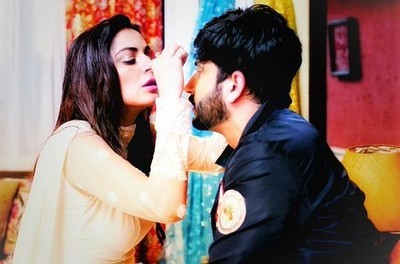 Kundali Bhagya: Karan (Dheeraj Dhooper) Preeta's (Shraddha Arya) Valentine's Day celebration Mahira (Swati Kapoor) failed
The upcoming episode of ZEE TV Hindi serial Kundali Bhagya will showcase interesting twist and turn.
It seems Mahira tries her level best to stop Karan from reaching court.
Mahira also gets self kidnapped so that she fails to reach court and free Preeta.
But Karan manages to reach court at the nick of time and save Preeta.
Mahira's plan flops where Karan saves Preeta and surprises her.
Mahira's plan flopped Karan Preeta's love victory
Karan takes Preeta on a date where he gifts her teddy, hearts ad balloon where the duo finally celebrates their first Valentine's Day.
Preeta blush in love as she is so happy to get Karan in her life with true love.
Let's wait and watch for the upcoming twist in Kundali Bhagya, keep tuned to serialgossip.com for more news on entertainment world.