Yeh Rishta Kya Kehlata Hai: Real reason behind Kush's suicide drama revealed (Upcoming Story)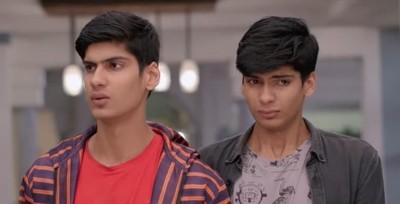 Yeh Rishta Kya Kehlata Hai: Real reason behind Kush's (Anmol Jyotir) suicide drama revealed
The upcoming episode of Star Plus longest running serial Yeh Rishta Kya Kehlata Hai will showcase shocking twist and turn.
As per the track, Kartik and Naira are seen extremely upset with Luv Kush.
Kartik Naira recalls their old bonding with Luv Kush who always used to love them and admire them.
On the other side Luv is not ready to accept his mistake and he wanted Trisha to die.
Kush does not support Luc's wrong but at the end decides to support for their freedom.
Kush takes a big step where he decides to commit suicide being weaker and asthmatic.
Kartik (Mohsin Khan) in confusion over Luv Kush's punishment
While it will soon be revealed that Kush's this suicide step was just a drama to win Kartik and entire Goenka family sympathy.
Will Kartik Naira melt their heart and forgive Luv Kush?
Stay tuned to serialgossip.com for further development on Yeh Rishta Kya Kehlata Hai.
Latest Yeh Rishta Kya Kehlata Hai Updates