KHKT: Sumit Sonakshi's hug of love jealousy drama triggers Rohit to reveal truth (Upcoming Story)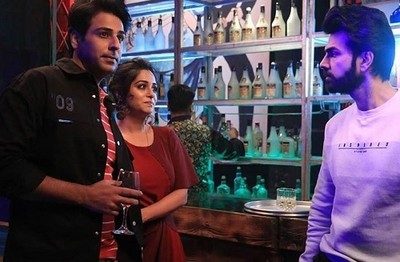 Sumit Sonakshi's hug of love jealousy drama triggers Rohit to reveal truth in Kahaan Hum Kahaan Hum
The upcoming episode of popular TV show Kahaan Hum Kahaan Tum will see exciting track with Sumit returning in Sonakshi's life as a support system in her toughest time.
Sumit financially helps Sonakshi that Suman's court hearing continues while Rohit's indirect confession gets Suman's bail.
The twist in the tale will now come when Sumit will turn a connecting link between Rohit and Sonakshi.
Sumit and Sonakshi accidentally come to same restaurant and bar where Rohit is having drink.
The jealousy drama will now kick start from here when Sonakshi will intimately hug Sumit's hand in front of Rohit.
Rohit's burst of anger seeg Sonakshi with Rohit
The jealousy seeing Sonakshi with Sumit puts Rohit on fire.
Rohit confronts Sonakshi and bursts out his anger while Sonakshi acts closer to Sumit.
This is going to be a new start of Rohit and Sonakshi's love story,
Let see what more twists and turns are lined up in the story.
Stay tuned with serialgossip.com for more updates and latest news.
Latest Kahaan Hum Kahaan Tum Updates