Kahaan Hum Kahaan Tum: Sonakshi turns gold digger to save Rohit's life (Upcoming Episode)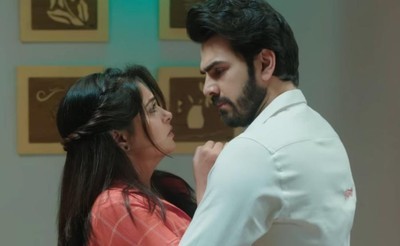 Kahaan Hum Kahaan Tum: Sonakshi (Dipika Kakkar) turns gold digger to save Rohit's (Karan Grover) life
As per the latest episode of Star Plus serial Kahaan Hum Kahaan Tum Sonakshi turns gold digger to save Rohit's life.
It was earlier seen that Veena kidnaps Sonakshi to keep her away from Rohit.
However Rohit needs Sonakshi to survive as she has rare blood group from which antidote can be made.
Veena thus free Sonakshi and begs before her to save Rohit's life.
Nishi once again plays her drama and asks Sonakshi to keep her gold digger attitude.
Sonakshi humiliates Veena as per Nishi's plan
Sonakshi thus keeps her esteem and humiliates Veena much.
Sonakshi thus keeps a deal before Veena and demands much money to which Veena agrees.
Sonakshi thus keep her gold digger attitude on Nishi's saying but in real she loves Rohit a lot and wants to see him alive.
Keep reading to know about the upcoming development in Kahaan Hum Kahaan Tum.
Latest Kahaan Hum Kahaan Tum Updates