Kahaan Hum Kahaan Tum: Rohit's last wish to die in Sonakshi's arms Veena soften (Upcoming Episode)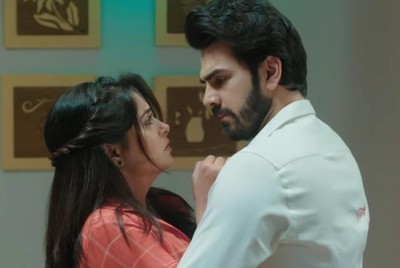 Kahaan Hum Kahaan Tum: Rohit's (Karan V Grover) last wish to die in Sonakshi's (Dipika Kakkar) arms Veena soften
Star Plus Hotstar serial Kahaan Hum Kahaan Tum will showcase shocking twist as Rohit being infected with Super Virus news gets known to Veena.
As per the latest episode Rohit is worried for missing Sonakshi.
Rohit wants to see Sonakshi safe and also reveals to Veena that he is infected with Super Virus.
Rohit also informs Veena that only Sonakshi can save his life as her blood group is rare and antidote can be made with the same.
Veena to reunite Rohit and Sonakshi
Veena melts her heart and brings Sonakshi to the hospital to prepare antidote.
On the other side Rohit reveals about his last wish to die in Sonakshi's arms.
It would be really interesting to see if Veena reunites Rohit and Sonakshi at the last stage.
Keep tuned to entertainment news website serialgossip.com
Latest Kahaan Hum Kahaan Tum Updates