Kahaan Hum Kahaan Tum: Sonakshi turn Parvati slaps Nishi for cross questioning (Upcoming Episode)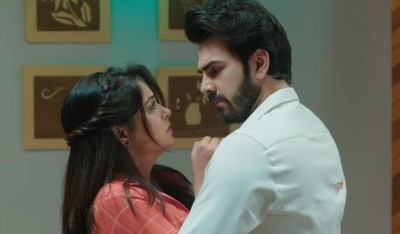 Kahaan Hum Kahaan Tum: Sonakshi (Dipika Kakkar) turn Parvati slaps Nishi (Kishwer Merchant) for cross questioning
The upcoming track of Star Plus serial Kahaan Hum Kahaan Tum will showcase interesting twist with Sonakshi's Parvati avatar.
It was earlier seen that Sonakshi risks her life and creates antidote to save Rohit and several patients life.
Nishi takeover Rohit's case but does not inject Rohit and leaves him to die.
While Sonakshi learns the same and takes nurse Parvati's disguise.
Sonakshi will be see injecting the antidote to Rohit and save Rohit's life.
Nishi allows Sonakshi post one slap twist
Further Nishi stops nurse Parvati and starts cross questioning her while furious Sonakshi to stop her gives her one tight slap.
Nishi thus allows Sonakshi to treat Rohit.
It would be really interesting to see how Rohit Sonakshi teams up and expose Nishi before entire Sippy family.
Keep tuned to serialgossip.com for more updates on Kahaan Hum Kahaan Tum.
Latest Kahaan Hum Kahaan Tum Updates