EDKV 2: Shravan breaks all rules for Suman overwhelmed meeting Vijay (Upcoming Story)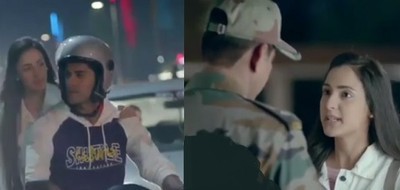 Shravan breaks all rules for Suman overwhelmed meeting Vijay in Ek Duje Ke Vaaste 2
Sony TV show Ek Duje Ke Vaaste 2is quite promising story of Shravan and Suman.
Shravan faces defeat from Suman's Dadu in chess game where Suman puts her demand.
The happy times soon turns into sadness for Suman when Suman finds about her father left for a big mission without meeting her.
Shravan doesn't want to see Suman upset thus he decides to take her to her father before he could leave.
Suman and Shravan's relation gets strengthened
Shravan drives Suman to the army battalion where he breaks all rules for Suman and takes her to Vijay.
Suman gets overwhelmed to meet her father before he is heading for a crucial mission.
However let's see if Vijay will get happy meeting his daughter or he will turn angry man seeing her.
Stay tuned to entertainment news website Serialgossip.com for quick updates of popular TV shows and Hindi Serial.
Latest Ek Duje Ke Vaaste 2 Updates