KZK 2: Bajaj Prerna's trump card trapped Anurag Komolika in nasty deal (Upcoming Twist)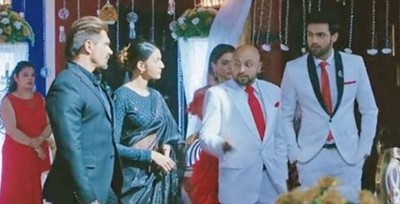 Kasauti Zindagi Ki 2: Bajaj Prerna's trump card trapped Anurag Komolika in nasty deal
Popular Hindi Serial Kasauti Zindagi Ki 2 is seeing quite intriguing story track with Prerna's blasting comeback in Basus life.
A big shock to Komolika, Mohini and Basus, Prerna and Bajaj turn out the foreign investors who can only save Basu Company from the huge loss.
Adding more thrill in the story, Bajaj and Prerna will now their trump card against Anurag and Komolika.
Although the duos have made the Basus helpless to accept their deal and cover their company huge loss,
Bajaj and Prerna put a shocking condition forth Anurag and Komolika.
Anurag and Komolika's first defeat
Anurag and Komolika have no choice rather than accepting Bajaj's condition and the deal.
Where Prerna's smart move is going to bring a defeat to Komolika and Anurag.
However it will be worth interesting to watch how this revenge will twist up the story of Kasauti Zindagi Ki 2.
Stay tuned to entertainment news website Serialgossip.com for quick updates of popular TV shows and Hindi serial.
Latest Kasauti Zindagi Ki 2 Updates