Yeh Rishta Kya Kehlata Hai: Real reason behind Rama's return Naira restless (Upcoming Episode)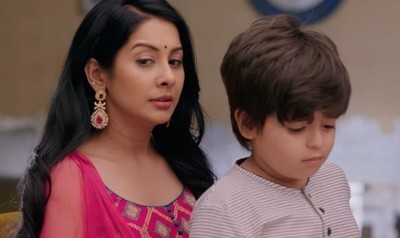 Yeh Rishta Kya Kehlata Hai: Real reason behind Rama's return Naira (Shivangi Joshi) restless
The upcoming episode of Star Plus serial Yeh Rishta Kya Kehlata Hai will showcase shocking twist.
It was earlier seen that Vivaan's parents wanted Vansh back but Gayu never gave them the child.
Vansh is Gayu's lifeline who cannot stay without them.
Now Rama Dadi returns and comes to meet Naira who informs about the upcoming problem.
Rama informs Naira that Vivaan's parents wants their Vansh back as they do not have any grand child in their family.
Rama Dadi creates new problem for Gayu (Simran Khanna) and Naira
Since Gayu is pregnant for the second time, Vivaan's parents wants the to consider the same.
Naira gets tensed and fears to share this thought with Gayu.
Kartik comes to know about the problem and decides to find out some solution.
Stay tuned and keep reading serialgossip.com for more updates on serial Yeh Rishta Kya Kehlata Hai.
Latest Yeh Rishta Kya Kehlata Hai Updates