Kartik Purnima: Real reason behind Vicky Purnima marriage Kartik in action mode (Upcoming Episode)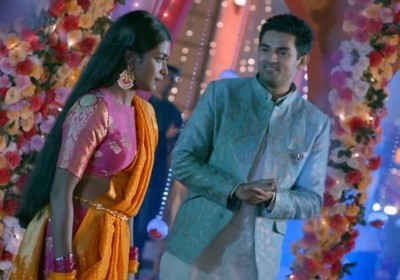 Kartik Purnima: Real reason behind Vicky Purnima (Poulomi Das) marriage Kartik (Harsh Nagar) in action mode
Star Bharat serial Kartik Purnima new episode will showcase high intensifying drama.
It was earlier seen that Kartik and Purnima have turned best friend while Soni is against this friendship and wants Purnima out of Kartik's life.
Hence selfish Beena and Dadi makes a plan to get Purnima married to someone else.
Beena thus catches Vicky who is con man in real and asks him to fool Purnima and get married to her.
Purnima too likes Vicky's nature as he is kind hearted being unaware about his reality.
Purnima feels Vicky is gem being unaware of reality
Beena wants Purnima to get married and move out of their house so that Shanaya can enjoy the luxury in Soni's family.
While Kartik learns the fact that Vicky is con man and decides to expose him.
Keep reading serialgossip.com for more updates on Kartik Purnima.
Latest Kartik Purnima Updates