Yeh Rishta Kya Kehlata Hai: Gayu rethink to carry Samarth's unborn in womb (Upcoming Twist)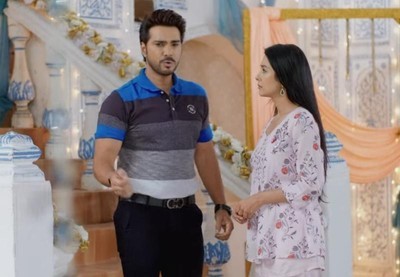 Yeh Rishta Kya Kehlata Hai: Gayu (Simran Khanna) worried to carry Samarth's (Samir Onkar) unborn in womb
The upcoming episode of Star Plus longest running serial Yeh Rishta Kya Kehlata Hai will showcase shocking twist and turn.
It was earlier seen that Gayu and Samarth get into fight as Samarth is overprotective for his coming child.
Further Samarth promises Gayu to take care of her and their child along with Vansh.
Samarth also promises to never differentiate between kids.
Kartik Naira struggle tensed Gayu
Now Kartik Naira brings their long lost Kaira home where they have to struggle for Kaira's stay in Goenka Mansion.
Dadi refuses to accept Kaira seeing the tension in house Gayu rethinks to carry Samarth's child in her womb thinking about Vansh's bad future story where there is no assurance.
Keep tuned to serialgossip.com for more interesting updates.
Latest Yeh Rishta Kya Kehlata Hai Updates