ZEE TV Popular Romantic Jodi Abhi Pragya or Karan Preeta who won heart (Latest Trending News)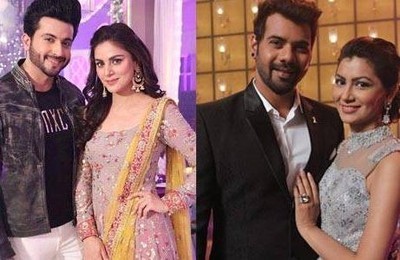 Vote for ZEE TV Popular Romantic Jodi Abhi (Shabbir Ahluwalia) Pragya (Sriti Jha) or Karan (Dheeraj Dhooper) Preeta (Shraddha Arya)
ZEE TV longest running and most popular shows are KumKum Bhagya and spin off Kundali Bhagya.
KumKum Bhagya is still followed by loyal viewers due to iconic couple Abhi Pragya and their true love story.
Abhi and Pragya's love story was loved and followed by one and all where the favourite Jodi always got separated by evil Tanu, Aaliya or some or the other added up villains.
On the other side spin off Kundali Bhagya too have equal fan followers were they appreciate Karan and Preeta's love story.
Who win Best Jodi for readers Abhi Pragya or Karan Preeta
Although Rishabh respects and loves Preeta being her supporting system at the time of need, Karan and Preeta's chemistry has more weightage.
Here we have a poll session where we want out readers to shoot in the comment section and comment for their favourite Jodi if its Abhi Pragya or Karan Preeta.
Well one common thing is that Abhi and Karan always distrusted Pragya and Preeta in the time of need which led to their separation.
Till then keep glued to our entertainment website serialgossip.com
Latest Kumkum Bhagya Updates