Pavitra Bhagya: Riyansh Pranati Jugnu's new episode to erase boredom (Latest Trending News)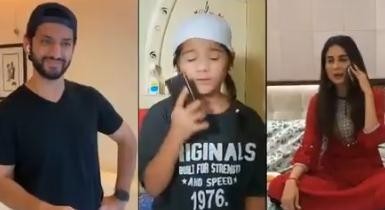 Pavitra Bhagya: Riyansh (Kunal Jaisingh) Pranati (Aneri Vajani) Jugnu (Vaishnavi Prajapati) new episode to erase boredom
Colors most popular serial Pavitra Bhagya is not showing any new episodes due to lockdown.
Looks like everyone is bored due to the lockdown and wants to see their show moving on the new twists in everyone's life.
Hence Colors has come up with interesting new episode just to entertain their viewers.
Jugnu is seen calling up Pranati and reveals that she is extremely bored.
Jugnu asks Pranati about what is she upto these days when Pranati reveals that she is making pasta.
Further Jugnu requests Pranati to play with her instead making pasta and calls up Riyansh.
Riyansh is busy doing his workout when he answers Jugnu's call.
Riyansh Pranati Jugnu's Antakshari cum nokh jhok moment
Here Pranati and Riyansh start with their nok jhok moment and Jugnu asks them to stop and play antakshari with her.
Pranati Riyansh and Jugnu's upcoming antakshari would be really interesting to watch.
Keep reading for further exciting updates where these three are shooting from home with the help of their real family members and have not come together.
Latest Pavitra Bhagya Updates