KumKum Bhagya fame Shikha Singh aka Aaliya's pregnancy picture revealed (Latest Update)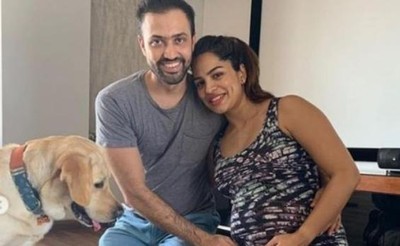 KumKum Bhagya fame Shikha Singh aka Aaliya's pregnancy picture revealed
Shikha Singh popularly known as Aaliya in ZEE TV longest running serial KumKum Bhagya starring Shabbir Ahluwalia Sriti Jha Krishna Kaul Mugdha Chapekar in lead roles.
Shikha Singh is seen playing the negative role of Aaliya who used to love Purab madly and separated him from his true love always.
Apparently Shikha Singh revealed her baby bump on social media stating that she is expecting her first child and very excited about the same.
Shikha Singh had already applied for break from her serial but she is happy that her husband too got the time to spend with her due to lockdown.
Shikha Singh and her husband enjoying quality time
Both Shikha Singh and her husband looks extremely happy and have several plans with regards to new member entering their life.
Shikha posted her dogs picture too where he seems to be unhappy and their focused is shifted on just the baby keeping dog at bay.
Keep tuned for more news on TV industry.
Latest Kumkum Bhagya Updates