Netizens following trend of #VirushkaDivorce, actual reality of this hashtag? (Latest Update)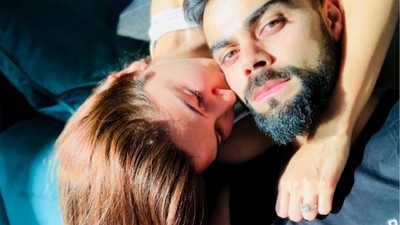 #VirushkaDivorce is trending on twitter
No doubt that Anushka Sharma and Virat Kholi's chemistry is mind blowing where everyone just woo while seeing them.
Amid all this some twitter is following new trend #VirushkaDivorce, these Netizens can do anything?
However there is not any confirmations over the same where anything that everyone follows becomes the trend without any veracity.
For instance #Justiceforchutki was trending and now #VirushkaDivorce, doesn't mean if anything makes sense or not just following trend makes it famous.
Anushka Sharma and Virat Kholi no separation news
Apart from the internet there are no any kind of confirmations that Anuhska Sharma and Virat kholi are getting divorce , while they will speak about all this soon.
Hope, you guys understand that there is no any kind of veracity in this hashtag, while it just became trend because everyone is following it.
Stay Inside, stay Safe, Stay away from rumors.
Stay tuned with Serial Gossip.com for more exciting updates and all news.
Latest Anushka Sharma Updates