Guddan Tumse Na Ho Payega: Guddan Akshat new game begins AJ slays unbutton challenge (Latest Update)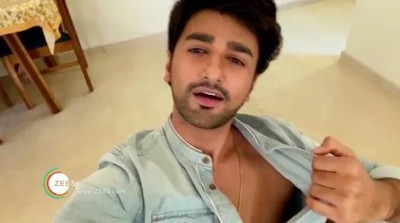 Guddan Tumse Na Ho Payega: Akshat Guddan game plan with all new twists
Guddan Tumse Na Ho payega is one of the most popular show of Zee Tv casting Kanika Mann as Guddan and Nishant Malkani as Akshat Jindal.
Where our Guddan aka Kanika Mann is shooting from home, and makers of the show are ready to serve spicy drama to our plates.
As current track of the show is showcasing how Akshat is doing all efforts to make Guddan fall in love with him.
Guddan and Akshay's truth and dare game with new challenge
Further Guddan and Akshat plays truth and dare game where first Akshat wants Guddan to confess love to him
And when its Guddan turn Guddan dares Akshat to unbutton his shirt, while Akshat slays his button look.
What will be Akshat's new move to make Guddan fall in love?
Till then ,Stay tuned with us for more exciting updates and upcoming twists in the shows.
Latest Guddan Tumse Na Ho Payega Updates