Kundali Bhagya: Preeta emotional tight hug to Karan post Karan's surprising efforts (Future Story)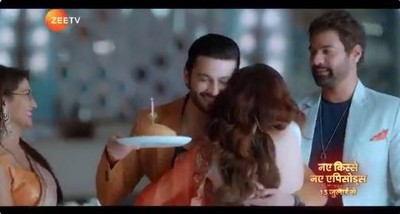 Kundali Bhagya: Karan (Dheeraj Dhooper) and Preeta (Shraddha Arya)'s love drama to begin again
Kundali Bhagya is one of the most popular and long running show of Zee TV casting Sriti Jha, Shabbir Ahluwalia, Dheeraj Dhooper and Shraddha Arya.
It was seen that Karan was getting married to Mahira where Preeta is worried for Karan as Shrishti and Preeta wants to expose the reality and safeguard Karan.
Amid all this because of lockdown Karan gets worried as Preeta's birthday is there and owing to which everything is just closed and Karan is not able to get the cake.
Pragya's homemade cakes blooms love amid Karan and Preeta
However where further amid all this Pragya offers homemade cake to Karan where Karan surprises Preeta making her emotional.
While Preeta and Karan shares some cute moments with each other after that.
Excited to watch your favorite stars back on the screen, share your reviews too.
Till Then, Stay tuned with Serial Gossip.com for more exciting updates and upcoming twists.
Latest Kundali Bhagya Updates