Barrister Babu: Trilochan's dirty Tantrik plan to trap Bondita gets revealed to Anirudh (Upcoming Twist)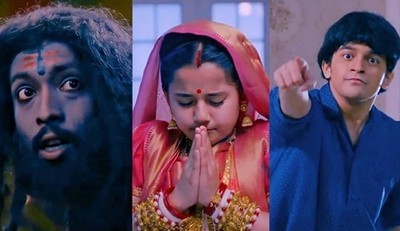 Barrister Babu: Trilochan's dirty Tantrik plan to trap Bondita gets revealed to Anirudh
Colors TV serial Barrister Babu is seeing a supernatural track in the current story.
Trilochan goes evil to trap Bondita and teach her a lesson.
Trilochan shockingly gets Tantrik to torture Bondita and get her free from the bad habit of bed wetting as he believes that she is possessed by some evil soul.
Bondita faces drastic pain while coping up with the torture of the Tantrik, but thanks to God who sends Anirudh in the nick of time to save Bondita.
Anirudh's shocking step against father Trilochan
Anirudh saves Bondita and is upset with what happened with Bondita.
Anirudh doesn't love Bondita as a wife but he cares for her a lot.
Anirudh has finally learned about Trilochan's hand in Bondita's terrible state,
It is going to be thriller to watch what Anirudh will do now.
Stay tuned to Serialgossip.com for more updates and latest news of top TV shows.
Latest Barrister Babu Updates