EDKV 2 Latest News: Parents misunderstandings to separate Shravan Suman (Latest News)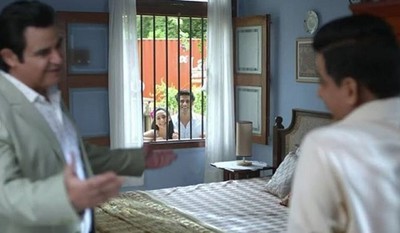 Ek Duje Ke Vaaste 2 Latest News: Daddu insults Devraj misunderstandings to separate Shravan Suman
Sony TV show Ek Duje Ke Vaaste 2 is seeing Shravan ( Mohit Kumar) and Suman's (Kanikka Kapur) master plan to unite their parents.
Devraj and Vijay's friendship is facing a hard time where Shravan and Suman are planning to unite them.
Daddu in the meanwhile invites Devraj and his family for the lunch where finally Shravan and Suman unite their fathers.
However the situation now takes troll when Daddu insults Devraj.
Daddu humiliates Devraj saying Vijay doesn't deserves a friend like Devraj while now this has complicated the situation for Shravan and Suman.
Shravan and Suman to part ways
Shravan and Suman will get separated when this humiliation of Devraj will create misunderstanding amid Shravan and Suman.
Let's see if Shravan and Suman could solve their misunderstanding and unite their parents before they separate them.
Stay tuned to Serialgossip.com for more updates and latest news of top TV shows.
Latest Ek Duje Ke Vaaste 2 Updates