Kundali Bhagya: Karan hug Preeta post marriage heave a sigh of relief (Upcoming Episode)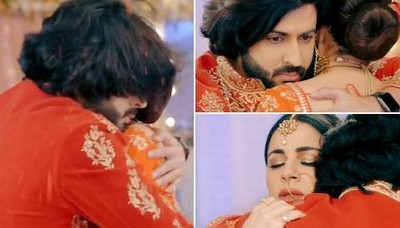 Kundali Bhagya: Karan (Dheeraj Dhooper) hug Preeta (Shraddha Arya) post marriage heave a sigh of relief
The upcoming episode of ZEE TV popular serial Kundali Bhagya will showcase exciting twist.
It was earlier seen that Preeta takes Mahira's disguise and gets married to Karan.
Preeta takes Saath Phere with Karan and wishes that this marriage lasts for seven births.
On the other side Shrishti is also happy with this new development.
Further Karan is unaware that Preeta is the bride and wishes to marry Preeta instead of Mahira.
Karan happy to see bride Peeta as his wife
Surprisingly at the end when Karan comes to know that he married Preeta, he heaves a sigh of relief and hugs her tight.
Viewers will get to witness the most awaited Sajda moment between Karan and Preeta.
It would be really interesting to see what happens next on the show.
Stay tuned and keep reading serialgossip.com for more updates.
Latest Kundali Bhagya Updates