Choti Sardarni: Sarabjit's confidential information revealed to Meher clue for Vikram (Upcoming Twist)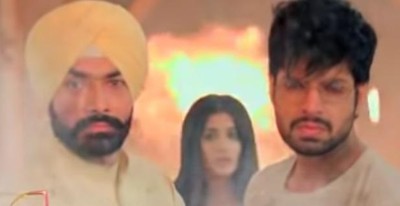 Choti Sardarni: Sarabjit's (Avinesh Rekhi) confidential information revealed to Meher (Nimrat Kaur Ahluwalia) clue for Vikram (Hitesh Bhardwaj)
The upcoming episode of Colors popular serial Choti Sardarni will showcase interesting twist as Sarabjit's confidential information revealed to Meher clue for Vikram.
It was earlier seen that Vikram comes to investigate about Sarabjit where he is trapped in some scam.
Vikram fails to gather any evidence against Sarabjit but he still decides to gather some proof from his house.
On the other side Meher comes to know about Sarabjit's confidential international account.
Vikram waits for clue from Meher
Sarabjit asks her to keep the information confidential.
Now at the other end Vikram is looking for this confidential information due to which he can expose Sarabjit.
Will Vikram get this information from Meher and expose Sarabjit?
Keep tuned for the upcoming twist in Choti Sardarni.
Latest Choti Sardarni Updates