Kundali Bhagya Latest News: Preeta slaps Mahira for trying to consummate Karan (Latest News)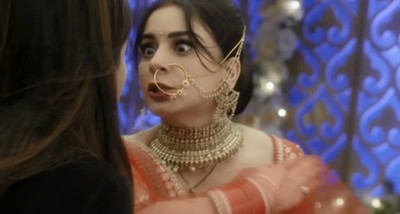 Kundali Bhagya Latest News: Preeta slaps Mahira for trying to consummate Karan
Popular TV serial Kundali Bhagya is going to see a drastic confrontation amid Preeta and Mahira.
Mahira's plan to marry Karan has failed drastically that now she goes mad to take revenge on Preeta.
Preeta on the other hand is not ready to lose against Mahira.
The situation goes worse when Mahira confronts Preeta saying it doesn't matter if she married Karan. She (Mahira) will have her suhaagraat with Karan.
Preeta gets shocked when Mahira swears to consummate with Karan on first wedding night.
Preeta will not sit quiet this time but angry Preeta confronts Mahira and slaps her.
Preeta to protect Karan from enemies
Preeta is not ready to let Karan fall in Mahira's trap.
Preeta has decided to take stand for her marital relationship with Karan.
Let's see how Preeta will alone face the new challenges of her life.
Stay tuned to Serialgossip.com for more updates and latest news of top TV shows.
Latest Kundali Bhagya Updates