Kundali Bhagya Upcoming Twist: Karan's big tamasha rejecting Preeta's wife right (Upcoming Twist)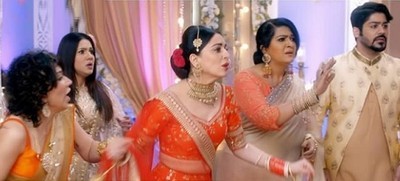 Kundali Bhagya Upcoming Twist: Karan's big tamasha rejecting Preeta's wife right
Big drama is going to happen in the upcoming twist of ZEE top TV serial Kundali Bhagya.
Karan and Preeta finally get married when Preeta swaps Mahira in the wedding mandap.
Mahira loses her cool seeing how Preeta cheated her and married Karan and snatched Karan from her.
Karan and Preeta's destined love unites once again but Karan's hate is not letting Karan accept Preeta.
Karan is going to create big tamasha in the wedding by rejecting Preeta as wife and this will make Mahira opportunistic once again.
Preeta to lose her love Karan once again
Preeta is unable to lose Karan once again that she stays stubborn on her wife right on Karan.
Karan will now turn Kabir Singh losing his temper and rejecting Preeta and her love.
How Preeta will win Karan's heart again and how she will oust Mahira from his life is worth to watch.
Keep reading entertainment news website Serialgossip.com for more quick updates on top TV shows and popular Hindi serials.
Latest Kundali Bhagya Updates