Ek Duje Ke Vaaste 2: New mystery for Suman with Shravan's I Love You (Upcoming Episode)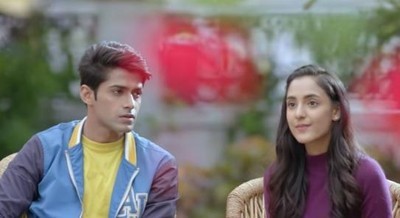 Ek Duje Ke Vaaste 2: New mystery for Suman (Kanikka Kapur) with Shravan's (Mohit Kumar) I Love You
The upcoming episode of Sony TV serial Ek Duje Ke Vaaste 2 will showcase interesting twist and turn.
It seems on Bunty's saying Shravan write love letter for Suman.
However he does not give the same to Suman and decides to keep it with him.
While Bunty teases him and asks him to burn the letter so he gets relieved.
Shravan looks at him in confusion where Bunty takes the step ahead and burs the letter.
Suman confused with the love letter
On the other side Suman witness their fight and also watches Bunty burning the letter.
Shravan in is tears when Bunty throws the letter.
Now Suman gets the piece of burnt paper in which it is written I Love You.
Will Suman understand that the love confession was for her or will wonder about the mysterious girl?
Wait and watch for latest development on EDKV2.
Latest Ek Duje Ke Vaaste 2 Updates