Kumkum Bhagya Latest News: Ranbir-Prachi's love confession made sisters Prachi Rhea enemies (Latest News)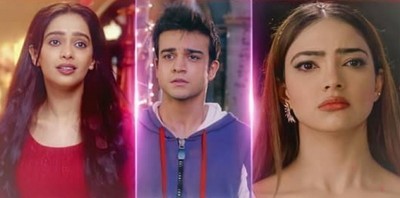 Kumkum Bhagya New Promo: Ranbir (Krishna Kaul) and Prachi (Mugdha Chaphekar) to confess love got Rhea (Pooja Banerjee) on fire
Longest running TV show Kumkum Bhagya new promo is witnessing Ranbir and Prachi's love in the air.
Ranbir is finally in love with Prachi while here Prachi also realizes her first love.
Ranbir and Prachi are completely in love and are planning to confess their feelings.
Ranbir and Prachi are dreaming their love life while here Rhea is totally on fire with Ranbir and Prachi's increasing closeness.
What will happen next in Kumkum Bhagya is quite controversial because Ranbir and Prachi's budding love story is going to turn the sisters Prachi and Rhea big enemies.
Rhea and Prachi's sisterly relation to getting revealed
Alongside Abhi and Pragya's destiny bringing them closer again and again,
Prachi and Rhea's sisterly relation is soon going to get revealed before them.
This is going to be very interesting to watch what big twists and turns are coming in Kumkum Bhagya after the new promo.
Keep reading entertainment news website Serialgossip.com for more quick updates on top TV shows and popular Hindi serials.
Latest Kumkum Bhagya Updates