Kundali Bhagya: Preeta pose as Karan's real wife tags Mahira Sautan (Upcoming Story)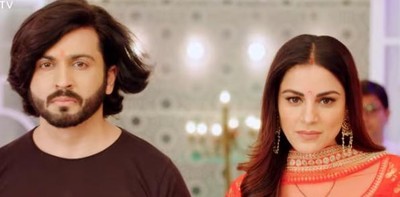 Kundali Bhagya: Preeta (Shraddha Arya) pose as Karan's (Shraddha Arya) real wife tags Mahira Sautan
The upcoming episode of ZEE TV popular serial Kundali Bhagya will showcase interesting drama.
It was earlier seen that Preeta makes her entry in Luthra posing a Karan's real wife.
The NGO ladies makes sure that Preeta gets her rights.
However Mahira helps Karan and reveals that Preeta is outsider and oust her from here.
While Preeta goes bold and tags Mahira as her Sautan.
Preeta shuts up Mahira's mouth tagging her Sautan
Preeta just shuts up Mahira and stands strong with everyone's support.
It would be really interesting to see what happens next on the show as Karan is left with no other option and has to accept Preeta in his life.
Keep reading serialgossip.com for more updates on Karan Preeta's Kundali Bhagya.
Latest Kundali Bhagya Updates