Kundali Bhagya: Preeta's GrihaPravesh with Karan in Luthra House (Upcoming Episode)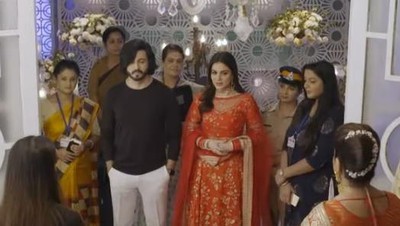 Kundali Bhagya: Preeta's (Shraddha Arya) GrihaPravesh with Karan (Dheeraj Dhooper) in Luthra House
As per the latest promo of ZEE TV most popular serial Kundali Bhagya will showcase interesting twist and turn.
Sarla pushes Preeta back in Karan's life with a warning to complete her mission and return back.
Preeta thus takes Police help and marks her entry in Luthra House.
Preeta warns Karan to accept her as wife or else he can accept Police.
Scared with Preeta's bold move, Karan accepts Preeta as wife.
Karan and Preeta's face off in bed room
Happy Preeta finally performs her Griha Pravesh with Karan as his wife.
Later Karan and Preeta have their face off in bed room.
It would be really interesting to see how Karan and Preeta share one room followed by nokh jhok moment post marriage.
Keep reading serialgossip.com for further development on Kundali Bhagya.
Latest Kundali Bhagya Updates