How Prisha to hide Saransh's real mother truth from Rudraksh in Yeh Hai Chahatein? (Latest Update)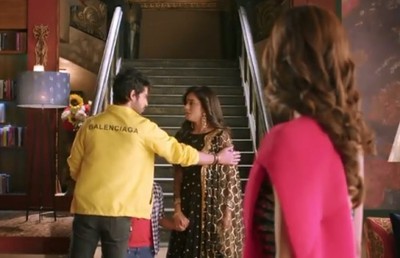 Rudraksh (Abrar Qazi) and Prisha (Sargun Kaur Luthra) tough time to come in Yeh Hai Chahatein
Popular TV show Yeh Hai Chahatein is going to bring big challenges for Rudraksh and Prisha.
Rudraksh and Prisha are having a good time together with Saransh when Ahana has started to play her dirty game against the couple.
Prisha is not Saransh's real mother but Prisha's sister Mahima is Saransh's real mother.
Now when Ahana has fetched the truth, Ahana is going to use this secret to separate Rudraksh and Prisha.
Prisha to part ways from Rudraksh
Rudraksh trusts in Prisha and loves her and Saransh a lot.
Rudraksh even challenges Ahana to play any game and trouble Prisha or Saransh that furious Ahana will now break Rudraksh's pride.
How Prisha will hide Saransh's real mother truth or if this truth is going to make Prisha leave Rudraksh forever,
Keep reading entertainment news website Serialgossip.com for more quick updates on top TV shows and popular Hindi serials.
Latest Yeh Hai Chahatein Updates