Pinjara Khubsurti Ka: Omkar won Mayura's heart risks his life for Mayura (Upcoming Twist)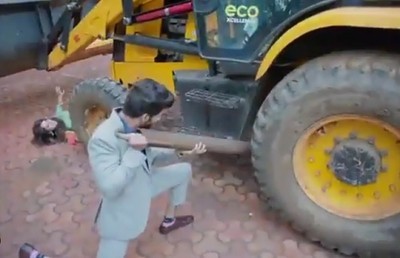 Pinjara Khubsurti Ka: Omkar (Sahil Uppal) won Mayura's (Riya Sharma) heart risks his life for Mayura
The upcoming twist of Pinjara Khubsurti Ka is going to see double trouble for Mayura and her family.
Omkar's mother is pissed off at how Mayura rejected Omkar's marriage proposal.
Cruel mother gets her men to demolish Mayura's house and this makes the situation worst when Mayura before JCB to stop the demolition.
Thankfully Omkar arrives in the nick of time and saves Mayura's life.
Omkar risks his life to save Mayura while this leaves Mayura surprised.
Omkar and Mayura's misunderstandings solve
Mayura misunderstands Omkar assuming Omkar is the one behind the troubles caused to her family and the demolition of the house.
Omkar rescued Mayura where now Omkar will win Mayura's heart.
What will happen next in Pinjara Khubsurti Ka is quite exciting and complicating at the same time because Piyush also entered in Omkar-Mayura's life.
Keep reading entertainment news website Serialgossip.com for more quick updates on top TV shows and popular Hindi serials.
Latest Pinjara Khubsurti Ka Updates