Ek Duje Ke Vaaste 2: Suman scolds Shravan for being selfish in love (Upcoming Twist)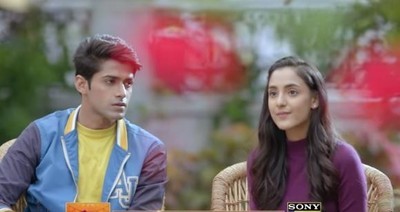 Ek Duje Ke Vaaste 2: Suman (Kanikka Kapur) scolds Shravan (Mohit Kumar) for being selfish in love
The upcoming episode of Sony TV serial Ek Duje Ke Vaaste 2 will showcase interesting twist and turn.
It was earlier seen that Shravan and Anish have a challenge for the sake of Suman.
Shravan is ready to do anything for Suman.
Suman finds Shravan at high risk where Anish cheated.
Suman reveals about anish's cheating and asks Shravan to return back.
While Shravan is not ready to listen up as Suman rejected his love and friendship.
Suman realises love for Shravan seeing him in danger
However Shravan slips and hangs on light pole where Suman is extremely worried for Shravan in danger.
Suman scolds Shravan for being selfish in love and not caring for her.
In real Suman too loves Shravan and she will soon be seen confessing her love for Shravan.
Keep tuned for further development on Ek Duje Ke Vaaste 2.
Latest Ek Duje Ke Vaaste 2 Updates